Walking Liberty Half Dollars
1916-1947
Thought by many to be to be among the most beautiful coins from the US mint, the Walking Liberty Half Dollar was the third coin in the "Liberty" series which was launched in 1916. Even though it was discontinued in 1948 in favor of the Benjamin Franklin series, the Walking Liberty design lived again, being chosen for the obverse design for the American Silver Eagle, a 1-ounce silver bullion coin which began production in 1986.
Designer: Adolph A. Weinman
Diameter: 1.20 inches (30.6 mm) with reeded edge
Composition: .900 silver, .100 copper
Weight: 12.50 grams
Mints: Philadelphia, Denver, San Francisco
Mint marks: 1916-1917: D or S on obverse, below the motto // 1917-1947: D or S on reverse, to the left of the 'H' of Half Dollar
The Standing Liberty Quarter was discontinued in 1930, and the Winged Liberty Head Dime was discontinued in 1945, so the Walking Liberty Half Dollar, the 3rd coin of the 1916 'Liberty' series, was the longest lived: it was discontinued in 1947.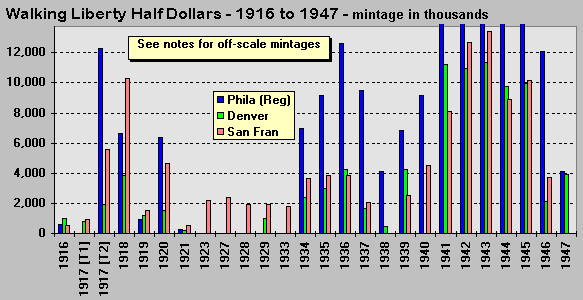 NOTES:
The scale of the chart is limited to 13,750,000 coins to allow the lowest quantity issues to be displayed, while accurately charting most other issues. The Walking Liberty Half Dollar production in Philadelphia exceeded the chart limit in each of the five years of WWII.


1941 = 24,192,000

1942 = 47,818,000 (more than triple the chart limit)

1943 = 53,190,000 (almost 4 times the chart limit)

1944 = 28,206,000

1945 = 31,502,000


No half dollars were minted in '22, '24-'26, and '30-'32.

Proof coins were made from '36-'42, but the quantities are too small to be displayed on the chart.
---