George Washington Quarter Dollar: 1932-1998
---
| | | |
| --- | --- | --- |
| 1932-1964 | | |
A new quarter dollar was issued in 1932 to commemorate the 200th anniversary of George Washington's birth.&nbsp It was intended to be a one-year commemorative issue, but it proved so popular it remained as our every day 25-cent coin for 67 years.&nbsp A new Washington Quarter was introduced in 1999.
Designer: John Flanagan
Composition: 90% silver, 10% copper // Diameter: .95 inch (24.3 mm); reeded edge // Weight: 6.25 grams
Mints: Philadelphia, Denver, San Francisco
Mint marks: D or S on reverse, centered below the wreath
---
1965-1974
1977-1998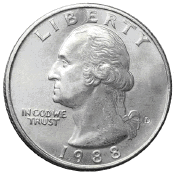 Composition: 1964 marked the last year when dimes and quarters meant for circulation contained any silver. Starting in 1965, a new, 3-layer 'clad' material was used for dime and quarter production.

The outer layer material on which the obverse and reverse images are struck is an alloy of .750 copper and .250 nickel
The inner layer, or 'core', is pure copper

Weight: 5.67 grams
Mint marks:

1965 to 1967: no mint marks
1968 to 1979: D or S on obverse, at right of hair ribbon
1980 to date: P, D, or S on obverse, at right of hair ribbon
---
1976
US Bicentennial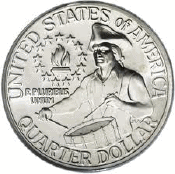 For 1976, the quarter was issued with a colonial Drummer Boy design. This design was issued for only one year to commemorate the US bicentennial of 1776-1996. (I really liked this coin when it was issued, and I still like it today.)

Designers: John Flanagan (Obverse) and Jack L. Ahr (Reverse)
There were two different compositions and weights of this year quarter dollar.

There was a 3-layer Cupro/Nickel clad version meant for circulation which used the same metals and had the same weight as as the coins from 1965 on.

There was also a 3-layer Silver clad version issued only in mint sets and proof sets.
---