Winged Liberty
("Mercury") Dimes
1916-1945
Although the obverse image on this 10-cent coin had the official name of Winged Liberty, the general population easily mistook the image for that of the goddess "Mercury" and the alternate name became commonplace when referring to the coin. True numinmatisis, however, prefer the official name of Winged liberty.
Designer: Adolph A. Weinman

Diameter: 0.70 inch (17.9 mm) with reeded edge

Composition: 90% silver, 10% copper

Weight: 2.50 grams

Mints: Philadelphia, Denver, San Francisco

Mint marks: D or S, on reverse, at bottom to the right of "ONE."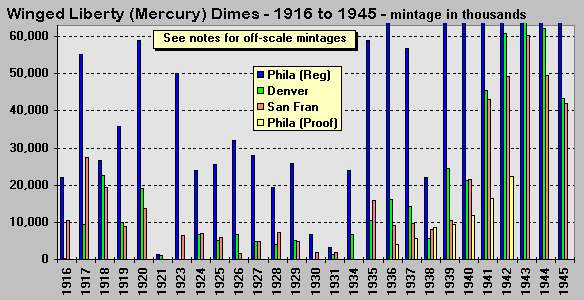 NOTES:

The scale of the chart is limited to 63,000,000 coins to allow the lowest quantity issues to be displayed, while accurately charting most other issues. Winged Liberty dime production exceeded the limit of this chart in eight different years, most notably during the five years of WWII. Since the purpose of this chart is to show relative rarity, mintages above 60,000,000 would seem to be immaterial.

No dimes were minted in '22, '32, and '33.
---