Indian Head (Buffalo) Nickels: 1913-1938

A new nickel was issued in 1913 featuring a bust of a native American Indian on the obverse, and the image of a buffalo on the reverse. (The model for the buffalo was 'Black Diamond', a buffalo imprisoned at the Bronx Zoological Gardens.) Most people, when asked to name this coin, call it a Buffalo Nickel, even though coins are conventionally named for their obverse image. This coin continued through 1938.
Designer: Designer: James Earle Fraser
Composition: 75% copper, 25% nickel
Diameter: 21.2 mm; plain edge
Weight: 5 grams
Mints: Philadelphia, Denver, San Francisco

Mint marks: D or S on reverse, under FIVE CENTS
---
Variety 1 - 1913 - FIVE CENTS on raised mound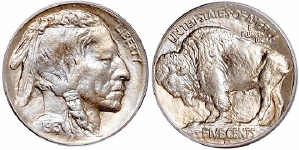 Issuing this coin with 'FIVE CENTS' on a raised mound was another mistake on the part of the mint.&nbsp The letters were so exposed to wear that they were the first thing to wear away with use.&nbsp At least the mint was quick to respond, and redesigned the coin mid-year to recess the mound and eliminate the premature wear issue.
---
Variety 2 - 1913-1938 - FIVE CENTS in recess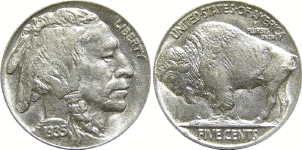 ---
NOTES:
The scale of the chart is limited to 15,000,000 coins to allow only the lowest quantity issues to be displayed. Data is not shown when the yearly production from any mint exceeded the limit of the chart. (For example, the yearly 'nickel' production in Philadelphia exceeded 20,000,000 in every year the coins were minted there except one: 1921.) Since the purpose of this chart is to show relative rarity, mintages above 15,000,000 would seem to be immaterial.

No nickels were minted in '22, '32, and '33.
---