Indian Head Cents: 1859-1909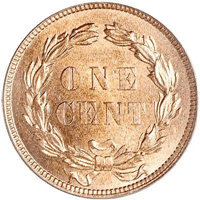 Type 1 Reverse:
Laurel Wreath
(1859)
Indian Head Cent Obverse
(All years)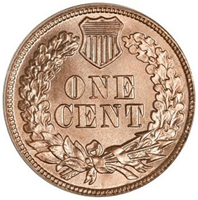 Type 2 Reverse:
Oak Wreath and Shield
(1860-1909)

In 1859 the one cent coin was changed again. At first glance, the obverse portrait on the so-called Indian Head cent appears to be an American Indian which, of course, is how this coin got its name. Closer examination, however, reveals this is most probably a young caucasian woman wearing a Native American headdress.

The Indian Head cent had a Laurel wreath on the reverse for only its first year. The design was changed in 1860 to an Oak wreath and shield, and the design continued to the end of the series in 1909.
Designer: James B. Longacre

Diameter: 19 mm (0.75 inch); plain edge

Mint: Philadelphia (entire series), San Francisco (1908 & 1909 only)

Mint Marks:
&nbsp &nbsp &nbsp 1859-1907 - Only minted in Philadelphia: no mint mark
&nbsp &nbsp &nbsp 1908-1909 - Philadelphia: no mint mark; San Francisco: 'S' on reverse, at bottom
The following table summarizes the major (intentional) varities of the Indian Head cent in its design, composition, and weight. The Variety numbers are arbitrarily assigned my me and do not reflect any official numbering scheme. Note that there are numerous "unintentional" varieites (such as doubled dies, etc.) which do not fall into the context of this site.
| | | | | |
| --- | --- | --- | --- | --- |
| Variety | Dates | Reverse Design | Composition | Weight |
| 1 | 1859 to 1860 | Laurel Wreath | 88% copper, 12% nickel | 4.67 grams |
| 2 | 1860 to 1864 | Laurel Wreath with Shield | 88% copper, 12% nickel | 4.67 grams |
| 3 | 1864 to 1909 | Oak Wreath with Shield | 95% copper, 5% tin and zinc (Bronze) | 3.11 grams |
---